Attendance
'Every student should aim for 100% attendance and punctuality. Parents do have a legal responsibility to ensure their child attends school.'
---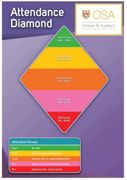 Our attendance diamond, presented around our school and in form classrooms is a reminder of our daily goal for each of our students. Every student should aim for 100% attendance and punctuality.
The attendance and punctuality of students is monitored daily by Form Tutors, Year Managers, and the Attendance Officer. Our Attendance Officer works with our Family Support Workers and other agencies to support out students attendance. We also work closely with the Local Authority who support us if we need to issue a fixed penalty notice for students who are persistently absent from school. The Local Authority is also responsible for pursuing court action if poor attendance continues.
Our reward system acknowledges and rewards great attendance through daily, weekly and termly rewards.
For general enquiries regarding attendance, please contact our Pastoral Co-ordinator:
Mrs Constantinou - PConstantinou@onslow.herts.sch.uk
If you have serious concerns regarding attendance please contact our Attendance Lead:
Mrs McIntyre – EMcintyre@onslow.herts.sch.uk