Behaviour Expectations
At Onslow St Audrey's we want to develop self-disciplined students who show the OSA student qualities of RESPECT, READINESS and PUNCTUALITY.
At Onslow St Audrey's we want to develop self-disciplined students who not only flourish academically but also develop their character. We want our students to show the OSA student qualities of RESPECT, READINESS and PUNCTUALITY; and have a set of key routines and systems to enable us to do this.
All students have a form tutor who provide them with daily pastoral care and can be your first port of call for any enquiries and concerns.
Each Year group is led by a Head of Year who will work very closely with each individual student, providing a consistent and vigorous approach to tracking progress and attendance, working to identify and remove barriers to success. The pastoral team also consists of attendance and safeguarding officers, pastoral support workers, school counsellors and family support workers. In addition, the team is supported by KS3, KS4 & KS5 Assistant Headteachers.
---
KEY ROUTINES
We start each day with our whole school line-ups. These are an important measure to ensure all students are set-up for their day to maximise learning time.
Our 3 areas of focus are: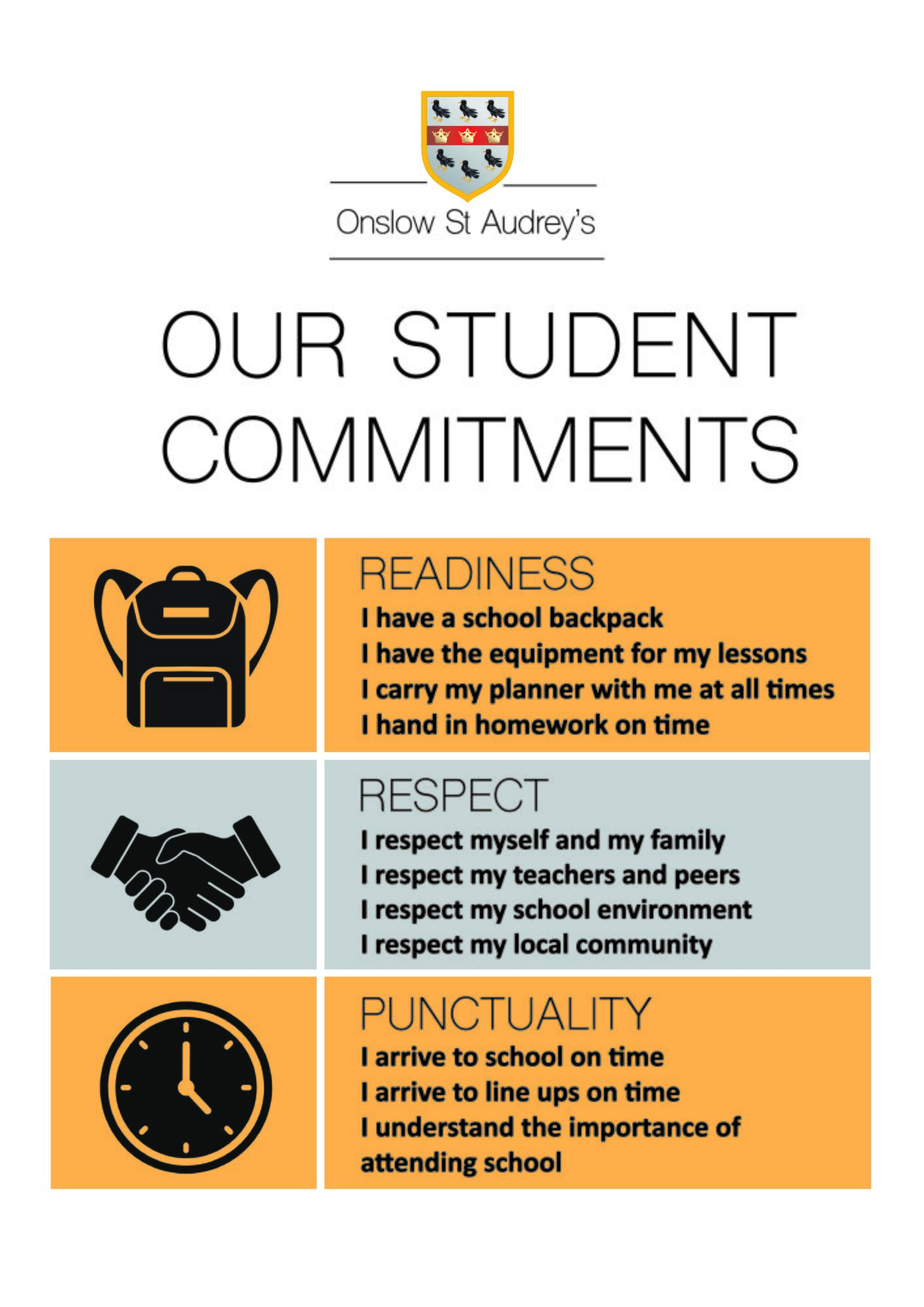 ---
3 Step Classroom Warning System
During all lessons the 3 step behaviour plan is in place to challenge any behaviour that can disrupt the learning environment.
On the rare occasion that a student cannot modify their behaviour and continue to disrupt the learning of others, staff members will follow our 3 step classroom warning system. The system will give students the opportunities to show self-discipline and can lead to a detention. If the student continues not to engage, they will be removed from the lesson and issued a detention.
---
Community Code
At Onslow St Audrey's our ethos is 'Achieving Success Together'. As a community we adhere to our community code to enable us to use our school space in harmony and respect our surroundings.
---
Rewards
Our rewards procedure is explained below: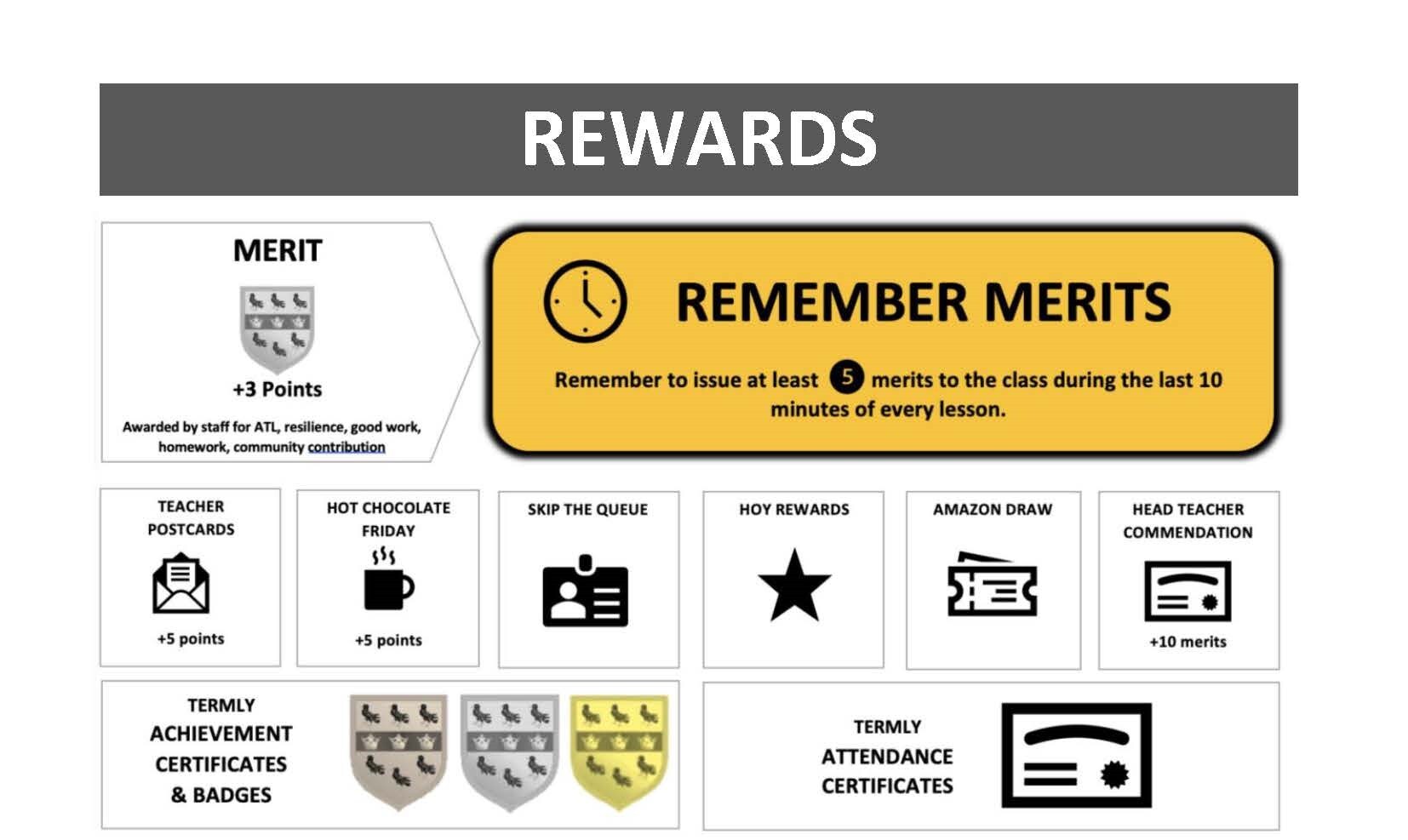 Sanctions
Sanctions are connected to the school's areas of focus including readiness, respect and punctuality.
Severe and Repeat cases of High Level Disruption will result in a student being placed into Reflection. In rare cases of High Level Behaviour, students will be referred to the Senior Leadership Team where permanent exclusion maybe necessary.
Parents are informed by a courtesy text message for students receiving a same day detention.
Failure to attend a detention will result in a two hour SLT detention and can lead to time in reflection or a suspension.
Suspensions from the school – These will be used to deal with serious cases of misconduct. The Headteacher will determine the appropriate level of exclusion depending on the severity of the behaviour.
Permanent exclusion from school – This procedure is carried out by the Headteacher and through the appropriate Governors' panel, in accordance with DCSF and Hertfordshire County Council guidance, for repeated serious misconduct or possibly for one-off misconduct of exceptional seriousness.
The school will endeavour to work with parents and outside agencies to balance the use of sanctions with support strategies for students where appropriate. This may include a Pastoral Support Programme where repeated misdemeanours have placed a student in danger of permanent exclusion from school
---
Reflection
The reflection room is used as either as an internal exclusion unit to reflect on behavioural choices, missed SLT detention or short term consequence for high level behaviours or while an investigation is taking place for a serious one off behaviour incident. It is used as an alternative to suspensions and ensures students can continue their learning. Students will be expected to attend school the following day between the hours of 8:40pm and 4:15pm.
Students must complete the reflection room timetable of allocated work for the day.
Failure to comply with the reflection room rules and expectations can lead to a suspension for persistent defiance.
---
Reports and PSPs
Students will be placed on report when their behaviour is persistent, or if there is a one-of situation, and will move through the report system outlined below. Our team will work closely with parents and our students to set targets and offer the most appropriate support to remove any barriers to success.
Form tutor report – 2-4 weeks
PSP Head of Year Report
PSP Head of Faculty Report
PSP to Deputy Headteacher
---
Uniform and Appearance
At OSA we believe our appearance needs to reflect a real work environment and we will check our students' uniform daily. We expect all our students to be in full uniform at all times and will provide a daily alternative for incorrect uniform item.
Further details on behaviour can be found in our behaviour policy.